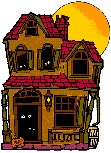 Spooky, kooky, creepy, and fun! Halloween is the time of Ghosts, Goblins, Gravestones and Graveyards. Of Spooks and Spirits and silly-fun tricks. Of Witches and Warlocks and Scary Black Cats. And Candy Corn, Jelly Apples, Pumpkins and Bats

Adult Halloween Party

Satisfy the twinkle of devilishness residing within all of us by hosting a Halloween party for your adult friends and family. Bone-chilled guests will instantly warm to this frighteningly good menu and party activities. Have a hauntingly fun time!


Make It Special!
Freaky Fun
Address invitations "Uncostumed individuals need not enter our gate." Or invite guests by phone, complete with eerie-sounding background music.

Award prizes for costumes; mystery books are a great choice.

Provide a fortune-teller. (Or do this yourself and think of fortunes ahead of time.)
Play a murder-mystery game available at game stores.

Do a reading of the classic frightening poem The Raven by Edgar Allan Poe.


Dramatic Decor
Greet guests with a lawn decorated with tombstones. Write guests' names above the R.I.P. and add eerie epitaphs to make them shiver. Cereal boxes covered with white butcher paper make terrific tombstones.

Light the lawn with luminarias.

Party stores are full of Halloween decor; shop early and choose decorations that suit your party best. Stuff rented costumes or old clothes with newspaper or plastic dry-cleaning bags, and place these extra "guests" throughout the house to promote conversation and merriment.


"Goblin" Food Fun
There's no trick to putting goodies for "goblin" on the table, but here are a few treats you may not have thought of.

Give scary names to all the menu items, such as Devilishly Good Eggs, and write them on name cards to help set the mood. Embellish the cards with Halloween stickers, jewels or glitter markers.


Make enough spritzer to serve in a punch bowl. Freeze cranberry juice in plastic gloves (wash and rinse gloves first to remove any residue). When juice is frozen solid, carefully cut off gloves with scissors. Float hands in punch bowl.


Serve the stew from a witches' cauldron, a large cast-iron pot or a hollowed-out and cleaned pumpkin. Surround the pot with dry ice and water (look for "dry ice" in the Yellow Pages).


Garnish the stew with a spiderweb of sour cream or squeezeable cheese. To make, squeeze circles of sour cream on top of stew from a squeeze bottle or plastic bag with a corner snipped. Drag a knife through the sour cream from the innermost circle to the outermost one. Repeat dragging from center to edge of pan to create web. Toss in a few gummy candy spiders.

Squeeze 3 or 4 circles of chocolate sauce onto dessert plates; drag a toothpick from the center of the plate outward through the chocolate circles in 6 to 8 spokes to make a web. Place cake slice on web.


Preparation Guide
Up to 1 Month Before
Make Bumpy Herbed Breadsticks; store tightly covered in freezer.


Make Red Velvet Devil's Food Cake; tightly cover and freeze unfrosted cake layers.


The Day Before
Chill beverages for Cranberry-Apple Spritzer.


Make Devilishly Good Eggs; store covered in refrigerator.


Prepare Baked Chicken Wings through step 2; refrigerate.


Frost the cake.


The Morning Of
Remove breadsticks from freezer

Make Bloody Mary Shrimp Cocktails

Prepare Blue Cheese Dip and cut Vegetables


About 5 Hours Before Guests Arrive
Make Harvest Beef Stew.


About 30 Minutes Before Guests Arrive
Bake chicken wings.


Toss ingredients for Spinach Ambrosia; wait to drizzle with orange juice.


When Guests Arrive
Make spritzer.


Serve appetizers and spritzers.


Before Serving Dinner
Drizzle salad with orange juice.

Adult Halloween Party Menu

Cranberry-Apple Spritzer
Devilishly Good Eggs
"Bat Wings" (Baked Chicken Wings)
Cold cooked shrimp and cocktail sauce
Veggies with dip
Harvest Beef Stew
Bumpy Herbed Breadsticks
Spinach Ambrosia
Chips
Red Velvet Devil's Food Cake
Coffee
RECIPES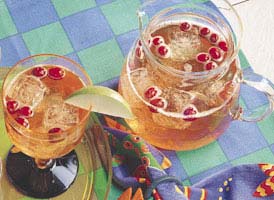 Cranberry-Apple Spritzer

Quench your thirst with refreshing wine, fruit juice and sparkling water.

2 cups chilled dry white wine, nonalcoholic wine or apple juice

1 cup chilled cranberry-apple juice

1 cup chilled sparkling water

Apple slices, if desired

Fresh mint sprig, if desired


1. Mix wine, juice and sparkling water.

2. Serve over ice. Garnish with apple and mint if desired.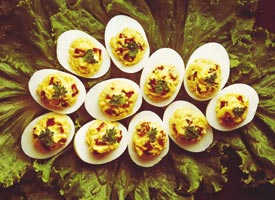 Devilishly Good Eggs

A devilishly good appetizer that requires only 15 minutes of your time!

6 hard-cooked eggs, peeled

1/4 cup mayonnaise or salad dressing

2 tablespoons Betty Crocker® Bac~Os® bacon flavor bits or chips

2 teaspoons lemon juice

1 1/2 teaspoons Worcestershire sauce

1 teaspoon yellow mustard

1/4 teaspoon salt

1/8 teaspoon pepper

Parsley or paprika, if desired


1. Cut eggs lengthwise in half. Slip out yolks and mash with fork in small bowl.

2. Stir in remaining ingredients except egg white halves.

3. Fill egg white halves with egg yolk mixture, heaping it lightly. Garnish with parsley or sprinkle with paprika.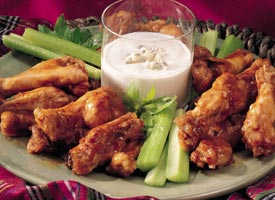 Baked Chicken Wings ("Bat Wings")

With a packet of chicken drummettes and a few basic ingredients, you can create a fast-food favorite at home!

2 pounds chicken drummettes (24)

2 tablespoons honey

2 tablespoons ketchup

1 tablespoon red pepper sauce

1 tablespoon Worcestershire sauce

Paprika

2/3 cup ranch dressing


1. Heat oven to 350ºF. Line jelly roll pan, 15 1/2x10 1/2x1 inch, with aluminum foil. Remove skin from chicken.

2. Mix honey, ketchup, pepper sauce and Worcestershire sauce in resealable plastic bag. Add chicken. Seal bag and refrigerate, turning occasionally, at least 15 minutes but no longer than 24 hours.

3. Place chicken in pan; sprinkle with paprika. Bake uncovered about 30 minutes or until crisp and juice of chicken is no longer pink when centers of thickest pieces are cut. Serve with dressing.

Bloody Mary Shrimp Cocktail

Cocktail, anyone? An oversized martini or margarita glass is the perfect serving dish for this updated spirited shrimp cocktail.

1 1/2 pounds (about 60) cooked peeled deveined medium shrimp, thawed if frozen

1/2 cup tomato juice

1/4 cup vodka, if desired

1/2 teaspoon red pepper sauce

1/2 teaspoon sugar

1/2 teaspoon celery salt

2 tablespoons chopped fresh parsley

1 cup cocktail sauce

1/4 cup finely chopped green olives


1. Arrange shrimp in single layer in rectangular glass or plastic dish, 11x7x1 1/2 inches.

2. Heat tomato juice, vodka and pepper sauce to boiling in 1-quart saucepan over medium-high heat. Stir in sugar; reduce heat. Simmer uncovered 5 minutes, stirring occasionally. Stir in celery salt and parsley; pour over shrimp. Cover and refrigerate 2 to 3 hours.

3. Mix cocktail sauce and olives; pour into small serving bowl. Remove shrimp from marinade with slotted spoon; arrange on serving platter. Serve shrimp with sauce and toothpicks.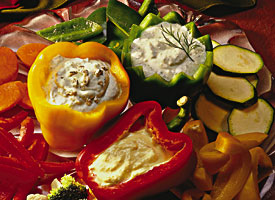 Blue Cheese Dip with Vegetables

A low-fat version of everyone's favorite decadent dip.

1 1/2 cups small curd creamed cottage cheese

2 tablespoons milk

2 teaspoons lemon juice

2 teaspoons grated onion

3 tablespoons crumbled blue cheese

1 tablespoon chopped fresh parsley

1 medium bell pepper

Raw vegetables, for dipping


1. Place all ingredients except bell pepper and raw vegetables in blender. Cover and blend on medium speed, stopping blender occasionally to scrape sides, until smooth.

2. Cover and refrigerate 1 hour to blend flavors.

3. Cut off top of bell pepper and hollow out. Spoon dip into pepper. Serve with raw vegetables.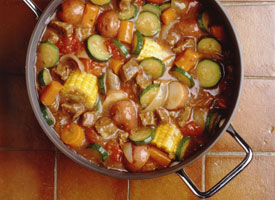 Harvest Beef Stew

This Betty's Best stew, loaded with beef and six kinds of vegetables, is certainly the best stew you'll ever bake.

2 pounds beef stew meat, cut into 1-inch cubes

4 medium carrots, cut into 1-inch pieces

2 medium onions, cut into eighths

4 garlic cloves, finely chopped

2 cans (16 ounces each) whole tomatoes, undrained

1/3 cup uncooked quick-cooking tapioca

1 tablespoon chopped fresh basil leaves

or

1 teaspoon dried basil leaves

1 tablespoon cumin seed

1 teaspoon salt

2 ears corn, cut into fourths

or

1 package (10 ounces) frozen whole kernel corn

8 small new potatoes, cut in half (1 pound)

2 small zucchini, thinly sliced


1. Heat oven to 325ºF.

2. Mix all ingredients except corn, potatoes and zucchini in Dutch oven, breaking up tomatoes. Cover and bake 2 1/2 hours, stirring 2 or 3 times during the first 1 1/2 hours.

3. Stir in corn and potatoes. Cover and bake 1 to 1 1/2 hours longer or until beef and vegetables are tender.

4. Stir in zucchini. Cover and let stand 10 minutes.
Bumpy Herbed Breadsticks

Fragrant fresh herbs and flavor-packed sesame seed make for hearty breadsticks unlike any others you've tried.

1 package regular or quick active dry yeast

1 cup warm water (105°F to 115°F)

2 cups all-purpose flour

1 1/2 tablespoons chopped fresh basil leaves

or

1 1/2 teaspoons dried basil leaves

1 tablespoon chopped fresh tarragon leaves

or

1 teaspoon dried tarragon leaves, if desired

2 tablespoons vegetable oil

1 teaspoon salt

1 to 1 1/2 cups whole wheat flour

Cornmeal

1 egg white

2 tablespoons cold water

Sesame seed


1. Dissolve yeast in warm water in large bowl. Stir in all-purpose flour, basil, tarragon, oil and salt. Stir in enough whole wheat flour to make dough easy to handle (dough will be soft).

2. Turn dough onto surface lightly sprinkled with whole wheat flour. Knead about 5 minutes or until smooth and elastic. Place dough in greased bowl; turn greased side up. Cover and let rise in warm place 1 to 1 1/2 hours or until double. (Dough is ready if indentation remains when touched.)

3. Grease 2 cookie sheets; sprinkle with cornmeal. Punch down dough. Divide into 24 equal parts. Roll and shape each part into rope, about 8 inches long, sprinkled with whole wheat flour if dough is too sticky. Place on cookie sheet. Cover and let rise in warm place 30 to 40 minutes or until double.

4. Heat oven to 400ºF. Mix egg white and cold water; brush on breadsticks. Sprinkle with sesame seed. Bake about 15 minutes or until golden brown. Immediately remove from cookie sheets. Serve warm or cool.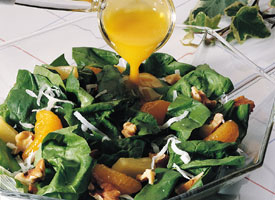 Spinach Ambrosia

This vitamin-rich fruit and vegetable salad has a refreshing orange taste.

7 cups bite-size pieces fresh spinach

1/2 cup shredded coconut

1 can (11 ounces) pineapple and mandarin orange segments, drained

1/3 cup orange juice


1. Toss spinach, coconut and fruit in large bowl.

2. Drizzle with orange juice. Serve immediately.
Red Devil's Food Cake

A classic chocolate layer cake frosted with the smoothest vanilla frosting you've ever tasted. Who could resist?

1 2/3 cups all-purpose flour

1 cup sugar

1/2 cup packed brown sugar

1/2 cup shortening

1 1/2 cups buttermilk

1 1/2 teaspoons baking soda

1 teaspoon salt

1 teaspoon vanilla

2 eggs

2 ounces unsweetened baking chocolate, melted and cooled

Creamy Vanilla Frosting (See Below)


1. Heat oven to 350ºF. Grease and flour 2 round pans, 8 or 9x1 1/2 inches, or rectangular pan, 13x9x2 inches.

2. Beat all ingredients except Creamy Vanilla Frosting with electric mixer on low speed 30 seconds, scraping bowl constantly. Beat on high speed 3 minutes, scraping bowl occasionally. Pour into pans.

3. Bake rounds 30 to 35 minutes, rectangle 35 to 40 minutes, or until toothpick inserted in center comes out clean. Cool rounds 10 minutes; remove from pans to wire rack. Cool completely, about 1 hour.

4. Fill and frost round layers or frost top of rectangle with Creamy Vanilla Frosting.

Creamy Vanilla Frosting

3 cups powdered sugar

1/3 cup butter or margarine, softened

1 1/2 teaspoons vanilla

1 to 2 tablespoons milk

Mix powdered sugar and butter in medium bowl with spoon or electric mixer on low speed. Stir in vanilla and enough of the milk until smooth and spreadable.