Rah! Sis Boom Bah! Go Team! As the weather turns cool, it's time for winter sports like football, hockey and Tailgate Parties! Team up with friends and make it a potluck meal. Or if you really want to show off, make it all yourself.
Keep in mind that you want foods that can be eaten out of hand or with as few utensils as possible. This keeps down the trash and clean-up factors, and won't require seating arrangements.
The featured tailgate party recipes include a variety of foods suitable for a picnic in the parking lot of your favorite stadium or any picnic location, including your family room. If you decide to spike your drinks, be sure to have a designated driver and be sure it's permitted in the stadium parking lot.
Tailgate Party Preparation Tips
• Prepare foods ahead of time and have them wrapped, packed and ready to roll.

• Stick to finger foods if possible, and make sure they are in manageable pieces.

• Bring along plenty of napkins, or better yet, a roll of paper towels.

• If utensils are necessary, bring disposable ones, including toothpicks.

• Don't forget sturdy, disposable cups for any drinks.

• Bring along a tablecloth to spread your wares upon and a bag for your trash.

• Warm up hot drinks just before leaving and bring along in an insulated jug.

Nothing Can Spoil a Great Tailgating Party

Some people just can't get enough of the great outdoors. They enjoy eating outside, no matter what the season. They find ways to overcome the cold, the wind and other atmospheric disturbances. In fact, they like it so much that they bring equipment worthy of a home or patio kitchen on their outings. Of course, what I'm describing is a tailgating party.
Sporting events, college or professional, are the siren call for this group, but musical concerts are also a big lure.
Tailgating is, in itself, a competitive, public spectacle.
Serious tailgaters work to establish the most elaborate setting for their party.
Tables, chairs, carpets and grills - all the comforts of home - are taken along for the party.
Tailgaters are very serious about their food, often preparing days before the event.
The next time you plan to tailgate, here are some tips for you to remember:
Select food that can either be cooked ahead and transported to the event, or cooked there on a grill.

Follow food safety precautions when it comes to transporting food. Keep cold food cold (40 degrees or lower) and hot food hot (140 degrees and above) to avoid food poisoning.

If you plan to bring alcoholic beverages, check with the stadium first to make sure it's permitted.

Don't forget to bring bottle openers and corkscrews, if necessary.

At the very minimum you'll need a large, heavy cloth on which to spread out the food. All the better if you can bring a table to go under the cloth.

Pack disposable plates and cups. Who wants to do the dishes after having so much fun?

Be prepared to clean up after yourself. That includes putting any leftovers you plan to keep in cold storage, throwing away your trash in available trash cans or bags that you've brought along, and safely dispose of any hot coals from your grill. Don't leave a hot grill unattended if you're heading in to the event.

Bring paper towels or wet wipes to help with clean-up before, during and after your tailgate.
The Menu
Nacho Layer Dip - This recipe from the Food Network is a snap to prepare. Prepare it at home and transport it in an insulated food carrier.
Grilled Bratwursts - Some people swear it's not a tailgate without these on the menu.
Posole - This hearty, Mexican soup should warm you up on a chilly afternoon.
Picnic Potato and Egg Soup - This recipe goes well with anything you grill.
Orange Shortbread Cookies - Cookies are the perfect tailgate dessert because they pack so easily.
Assorted beverages including beer, wine, and soft drinks.

RECIPES:
Nacho Layer Dip

1 cup leftover chili or canned refried beans
8 ounces cream cheese, softened
1 cup chopped tomato
1/2 cup coarsely chopped jalapenos
1/2 cup finely chopped red onion
1 cup shredded cheddar cheese
1/2 cup sliced scallions
Preheat oven to 375 degrees F.
Spread chili or beans over bottom of baking dish. Spread softened cream cheese on top. Layer tomatoes, jalapenos, red onion and cheese. Bake for 20 minutes or until bubbly. Top with scallions and serve with chips

Grilled Bratwurst
These brats are simmered in beer making them extra juicy and filled with lots of flavor. Once grilled, drop in a bun,top with whatever you like, and you have a perfect snack for the game.

INGREDIENTS:
6 Bratwursts
1 12 ounce can of beer
1 medium onion, chopped
6 peppercorns
4 cloves
6 hard rolls

PREPARATION:
In a large pot combine all ingredients except the rolls. Simmer over a low heat for 20 minutes. Preheat grill. Remove bratwursts from pot and place on grill for about 10 minutes, turning occasionally. Grill until brown.
If you sprinkle with water they will form a crispy skin. Serve on rolls with your favorite mustard.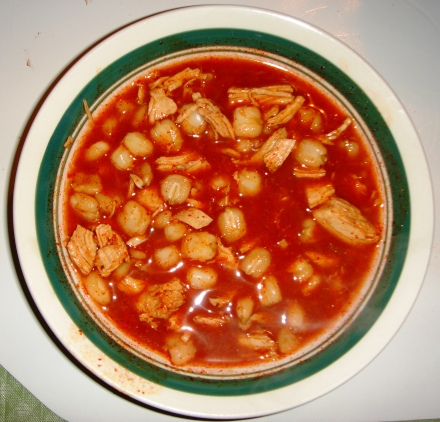 Posole
A rich soup originating from the Mexican state of Jalisco.
INGREDIENTS:
1 lb pork cut into small cubes
1 whole onion, peeled and coarsely chopped
1 teaspoon garlic powder or 5 cloves of garlic, peeled and diced
1/4 teaspoon pepper
1 teaspoon ground cumin
1/2 teaspoon oregano
1/4 teaspoon ground cloves
4 green chiles, roasted, peeled and diced
1 jalapeno, seeded, and finely diced
2 tablespoons oil or lard
2 cups dried hominy or 3 cups fresh nixtamal with hulls removed (see below)
1/2 teaspoon salt
PREPARATION:
Dried Hominy-
Soak dried hominy in lightly salted water overnight.
Nixtamal or Fresh Hominy-
Follow Nixtamal directions for cooking and soaking hominy.

Only use 2 cups of dried corn to make the hominy.

Heat oil in a large saucepan over medium heat. Saute the onions and garlic for approximately two minutes. Brown the meat in the pan with the onions and garlic. Add enough water to cover the meat with a least 2 inches. Stir in the dried hominy, salt, cumin, oregano, cloves, pepper and chiles. (If using fresh hominy instead of dried, do not add at this time.) Let simmer for 1 hour.
Remove the meat from the liquid. Remove excess fat and cut the meat into small cubes. Set aside.
Add chicken broth as necessary to replace liquid. If using fresh hominy or nixtamal, add it at this time. Simmer for an additional hour. Add in cubed pork and simmer for an additional 20 minutes or until hominy is thoroughly cooked. Salt to taste

Picnic Potato & Egg Salad

This salad is delicious with just about anything grilled, and always tastes best outdoors!

INGREDIENTS:
3 pounds potatoes, cooked until just tender, cubed, cooled
5 or 6 hard cooked eggs, cooled, coarsely chopped
1/4 to 1/2 cup chopped red onion
1/4 to 1/2 cup chopped celery, optional
thinly sliced tomatoes and cucumber, for garnish, optional
.
Dressing:
3/4 cup mayonnaise (a little more or less, as desired)
1 to 2 tablespoons prepared mustard
salt and pepper to taste
PREPARATION:
Combine potatoes, egg, onions, and celery. Stir in mayonnaise, mustard, and salt and pepper to taste. (Stir the mayonnaise and mustard in a little at a time, until you have the flavor and consistency you like.)
Top with thinly sliced tomatoes and cucumber, if desired.
Serves 6 to 8.

Orange Shortbread Cookies
Traditional shortbread cookies shine with the flavor of oranges. Each of the attractive diamond-shaped cookies are topped with a slice of almond. Hint: Use a pizza cutter to quickly slice the cookies.

INGREDIENTS:
1 cup butter, softened
3/4 cup sifted powdered sugar
1 teaspoon grated orange rind
2 teaspoons frozen orange juice concentrate, thawed and undiluted
1-3/4 cups all-purpose flour
Sliced almonds

PREPARATION:
Beat butter in a mixing bowl at medium speed of an electric mixer. Gradually add powdered sugar, beating well. Add orange rind and concentrate. Stir in flour.
Press dough into a lightly greased 15- by 10- by 1-inch jellyroll pan.
Prick all over with a fork. Cut into 1-1/2-inch diamonds. Place a sliced almond in center of each diamond.
Bake at 300 degrees F. for 30 minutes or until done.
Recut diamonds while warm.
Let cookies cool in pan on a wire rack.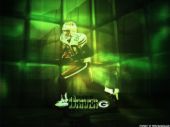 A COUPLE EXTRA RECIPES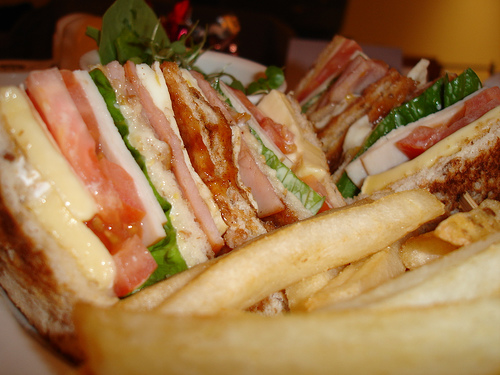 Double-Decker Club Sandwiches
Ingredients
1 (8-ounce) carton sour cream
2 tablespoons prepared horseradish
2 teaspoons honey mustard
1/4 teaspoon garlic salt
1/8 teaspoon white pepper
3/4 pound thinly sliced ham
12 slices whole wheat bread
4 slices Swiss cheese
8 lettuce leaves
3/4 pound thinly sliced turkey
8 slices tomato
4 slices bacon
16 pitted ripe olives
16 pimiento-stuffed olives

Instructions
Combine sour cream, horseradish, honey, mustard, garlic salt, and white pepper; stir well. Place 3 ounces of ham on each of 4 slices of bread. Top each with 1 teaspoon sauce, 1 slice cheese, a lettuce leaf, and another slice of bread. Place 3 ounces of turkey on each slice, and add 1 teaspoon sauce, lettuce leaf, 2 slices tomato, and 1 slice bacon. Top with remaining slices of bread.
Skewer a ripe olive and pimiento stuffed olive on each of 16 wooden picks. Cut each sandwich into 4 triangles, and secure each quarter with a pick.
Yield: 8 servings


Pacific Flavor Shrimp

Ingredients
1-1/2 cups tomato puree
2-1/2 tablespoons light brown sugar
2 cloves garlic, minced
Chopped zest of 1 lime
1/4 cup fresh lime juice
1-1/2 tablespoons Oriental chile paste
3/4 cup shredded fresh basil leaves
2 tablespoons cornstarch
2 tablespoons water
3 pounds medium to large shrimp, peeled, deveined, cooked, and drained
2 tablespoons Oriental sesame oil
Dried red pepper flakes to taste
Lime wedges for garnish

Instructions
Combine the tomato puree, sugar, garlic, lime juice, lime zest, chile paste, and 1/2 cup of the basil in a saucepan. Dissolve the cornstarch in the water and set aside. Bring the sauce ingredients to a low boil over medium heat and cook a few minutes. Stir in the cornstarch and cook just until the sauce is thick and glossy. Remove from the heat and let cool to room temperature. Toss the cooked shrimp with the sesame oil in a mixing bowl. Sprinkle with red pepper flakes to taste. Add the cooled tomato sauce and toss to combine. Transfer to a shallow serving bowl and sprinkle with the remaining 1/4 cup basil. Garnish with lime wedges. Serve chilled or at room temperature.
Yield: 12 to 15 appetizer servings