January
Cornish Game Hens with Garlic and Rosemary
"Lemon- and rosemary-infused, little game hens basted with a wine and garlic broth make any occasion special."

Ingredients:
4 Cornish game hens
salt and pepper to taste
1 lemon, quartered
4 sprigs fresh rosemary
3 tablespoons olive oil 24 cloves garlic
1/3 cup white wine
1/3 cup low-sodium chicken broth
4 sprigs fresh rosemary, for garnish
Directions:
1. Preheat oven to 450 degrees F (230 degrees C).
2. Rub hens with 1 tablespoon of the olive oil. Lightly season hens with salt and pepper. Place 1 lemon wedge and 1 sprig rosemary in cavity of each hen. Arrange in a large, heavy roasting pan, and arrange garlic cloves around hens. Roast in preheated oven for 25 minutes.
3. Reduce oven temperature to 350 degrees F (175 degrees C). In a mixing bowl, whisk together wine, chicken broth, and remaining 2 tablespoons of oil; pour over hens. Continue roasting about 25 minutes longer, or until hens are golden brown and juices run clear. Baste with pan juices every 10 minutes.

4. Transfer hens to a platter, pouring any cavity juices into the roasting pan. Tent hens with aluminum foil to keep warm. Transfer pan juices and garlic cloves to a medium saucepan and boil until liquids reduce to a sauce consistency, about 6 minutes. Cut hens in half lengthwise and arrange on plates. Spoon sauce and garlic around hens. Garnish with rosemary sprigs, and serve


February
Cube Steak Parmesan
This is a great Italian style way to prepare beef or venison cube steaks. Double the ingredients for a crowd.

Ingredients:
3 tablespoons all-purpose flour
1/2 teaspoon salt
1/4 teaspoon ground black pepper
2 eggs
2 tablespoons water
1/3 cup crushed saltine crackers
1/3 cup grated Parmesan cheese
1/2 teaspoon dried basil 3 tablespoons vegetable oil
4 (4 ounce) beef cube steaks
1 1/4 cups canned tomato sauce
2 1/4 teaspoons white sugar
1/2 teaspoon dried oregano, divided
1/4 teaspoon garlic powder
4 slices mozzarella cheese
1/3 cup grated Parmesan cheese
Directions:
1. Preheat the oven to 350 degrees F (175 degrees C). In a shallow dish, stir together the flour, salt and pepper. In a separate bowl, whisk together the eggs and water with a fork. In a third bowl, or shallow dish, mix together the cracker crumbs, 1/3 cup of Parmesan cheese and basil.

2. Heat the oil in a large skillet over medium heat. Dredge the cube steaks in the seasoned flour, dip into the egg mixture, and coat with the cracker crumb mixture. Place them in the skillet, and fry just until browned on each side. Arrange steaks in a single layer in a greased casserole dish.

3. Bake for 25 minutes in the preheated oven. Meanwhile, in a medium bowl, stir together the tomato sauce, sugar, 1/4 teaspoon of oregano, and garlic powder. Spoon over steaks when the 25 minutes are up. Top each steak with mozzarella cheese and remaining Parmesan cheese; sprinkle remaining oregano over the top. Bake for 5 more minutes, or until the cheese is melted, and the sauce is hot

MARCH
Chipotle Chicken Drummies
Try hot chicken drummies kickin' with flavor and partnered with a cool avocado dip.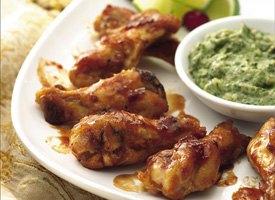 INGREDIENTS:
1/4 cup chili sauce
2 tablespoons honey
1 tablespoon soy sauce
2 chipotle chilies in adobo sauce (from 7-ounce can), chopped
2 teaspoons adobo sauce from can
1/4 teaspoon garlic powder
1/8 teaspoon coarsely ground pepper
2 pounds chicken drummettes (20 to 24)
Avocado Mayonnaise
1 medium ripe avocado, peeled and pitted
2 tablespoons mayonnaise or salad dressing
1/4 cup chopped fresh cilantro
1 teaspoon lime juice
Dash of salt

DIRECTIONS:
1.Mix all ingredients except drummies and Avocado Mayonnaise in shallow dish. Add drummies; turn to coat. Cover and refrigerate 30 minutes to marinate.

2. Heat oven to 375°. Line jelly roll pan, 15 1/2x10 1/2x1 inch, with aluminum foil. Spray foil with cooking spray. Remove drummies from marinade; place in pan. Brush with remaining marinade. Bake 30 to 35 minutes or until chicken is no longer pink when centers of thickest pieces are cut.

3. Meanwhile, make Avocado Mayonnaise. Serve with warm drummies.

4. Method for Avocado Mayonnaise: Mash avocado in small bowl. Stir in remaining ingredients until well blended. Refrigerate until serving.

High Altitude (3500-6500 ft): Bake 40 to 45 minutes.

APRIL
Mashed Potato and Sausage Casserole
Make a one-dish meat-and-potatoes dinner complete with veggies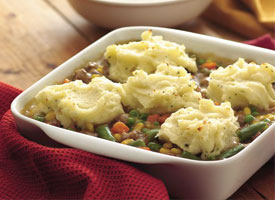 Ingredients:
1 lb bulk pork sausage
1 bag (12 oz) Green Giant® Valley Fresh Steamers™ frozen mixed vegetables
1 cup onion-seasoned beef broth (from 14-oz can)
3 tablespoons Gold Medal® all-purpose flour
1/2 box (7.2-oz size) Betty Crocker® roasted garlic mashed potato mix (1 pouch)
Water, milk and margarine or butter called for on potato mix box

Directions:
1. Heat oven to 425°F. Butter or spray with cooking spray 8-inch square (2-quart) glass baking dish. In 10-inch skillet, cook sausage over medium-high heat, stirring frequently, until no longer pink; drain. In baking dish, mix sausage and frozen vegetables. In small bowl, mix broth and flour until smooth; pour over sausage mixture. Gently stir.

2. Cover with foil; bake 35 to 45 minutes, stirring occasionally, until mixture is hot, bubbly and slightly thickened.

3. Make potatoes as directed on box for 4 servings, using 1 pouch potatoes and seasoning, water, milk and margarine. Let stand 3 to 5 minutes. Spoon onto sausage mixture. Bake uncovered 8 to 12 minutes longer or until potatoes begin to brown.
Substitution
You can substitute 1 pound fully cooked kielbasa or Polish sausage, cut into 1/2-inch slices, for the bulk pork sausage. Omit the cooking step in step 1, and just mix the kielbasa with the vegetables.

Substitution
If onion-seasoned beef broth is not available, regular beef broth can be substituted.

Serve-With
To round out this hearty meal, serve a fresh green salad and crusty dinner rolls