January
No Bake Double Good Dessert
"This easy dessert goes very fast when around our home, and there is no baking! Always a favorite! Enjoy!!"

Ingredients:
20 chocolate sandwich cookies, crushed
1 (8 ounce) package cream cheese,
softened
2 cups confectioners' sugar 3/4 cup peanut butter
1 (12 ounce) container frozen whipped
topping, thawed
Directions:
1. Press crushed cookies into the bottom of a 9x13 inch pan, reserving a few for decoration. In a medium bowl, beat together the cream cheese and confectioners' sugar. Stir in the peanut butter until well blended, then fold in the whipped topping. Spread over the crushed cookie base, sprinkle the remaining cookie chunks on top, and freeze for 1 to 2 hours. Thaw 10 to 15 minutes before cutting and serving

February
Apple Pumpkin Desserts
All the flavors of your favorite autumn desserts are packed into these individual size treats topped with a sprinkling of gingersnap crumbs and butter

Ingredients:
1 (21 ounce) can apple pie filling
1 (15 ounce) can pumpkin
1 (14 ounce) can EAGLE BRAND®
Sweetened Condensed Milk
2 large eggs 1 teaspoon ground cinnamon
1/2 teaspoon ground nutmeg
1/2 teaspoon salt
1 cup gingersnap crumbs
2 tablespoons butter or margarine, melted
Directions:
1. Preheat oven to 400 degrees F. Spoon equal portions of apple filling into 8 (6-ounce) lightly greased custard cups.

2. In large bowl, combine pumpkin, sweetened condensed milk, eggs, cinnamon, nutmeg and salt; mix well. Spoon equal portions over apple filling.

3. Combine gingersnap crumbs and butter in a small bowl. Sprinkle over pumpkin filling. Place cups on 15x10-inch baking pan.

4. Bake 10 minutes. Reduce oven temperature to 350 degrees F; bake 15 minutes longer or until set. Cool. Serve warm. Store leftovers covered in refrigerator


MARCH
BANANA SPLIT CAKE
WOW YOUR FRIENDS WITH THIS SIMPLE CAKE.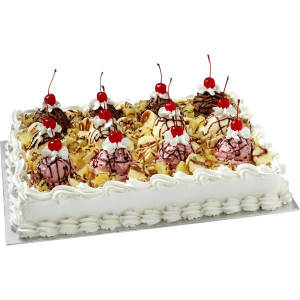 Ingredients:
Cake Mix (mix and bake according to box directions)
•Stabilized Whipped Cream Icing Recipe
•strawberry ice cream
•vanilla ice cream
•chocolate ice cream
•bananas
•Marachino cherries
•pineapple
•Chocolate fudge syrup
•walnuts chopped
DIRECTIONS
Bake and cool cake. Ice cake smooth.
Pipe tip 1M shell bottom and reverse shell top borders. Arrange 4 scoops of each flavor ice cream on top of cake.
Add bananas, pineapple and nuts. Drizzle with fudge using decorating bag and tip 2.
Pipe tip 1M stars on top of each ice cream scoop. Position cherries on top. Serve immediately. Store any leftover cake in freezer.

STABLIZED WHIPPED CREAM ICING
Ingredients:
1/2 pint (1 cup) heavy whipping cream
2 tablespoons confectioners' sugar
Makes: 1 1/2 - 2 cups of icing.
instructions
Combine whipping cream and sugar in large bowl. Beat with electric mixer until soft peaks form. Add piping gel and vanilla, then continue to whip until stiff peaks form. Do not overbeat.
As an alternative, you can use Frozen Non-Dairy Whipped Topping or Packaged Topping Mix. Thaw frozen whipped topping in refrigerator before coloring or using for decorating. Use packaged topping mix immediately after preparing. Store decorated cupcakes in refrigerator until ready to serve. Do not allow either to stay at room temperature, as it becomes too soft for decorating

APRIL
Grasshopper Fudge Cake
Pretty streaks of green peek out from slices of white cake topped with hot fudge sauce and creamy whipped topping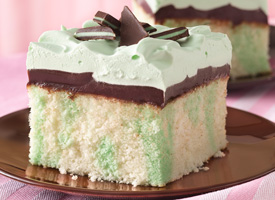 Ingredients:
1 box Betty Crocker® SuperMoist® white cake mix
1 1/4 cups water
1/3 cup vegetable oil
2 teaspoons mint extract
3 egg whites
12 drops green food color
2 jars (16 oz each) hot fudge topping
1 container (8 oz) frozen whipped topping, thawed
5 drops yellow food color
Thin rectangular crème de menthe chocolate candies, unwrapped and cut into pieces, if desired
Directions:
1. Heat oven to 350°F for shiny metal or glass pan (or 325°F for dark or nonstick pan). Spray bottom only of 13x9-inch pan with baking spray with flour.

2. Make cake mix as directed on box, using water, oil, 1 1/2 teaspoons of the mint extract and the egg whites. Reserve 1 cup batter. Stir 3 drops of the green food color into reserved batter; set aside. Pour remaining batter into pan.

3. Drop green batter by generous tablespoonfuls randomly in 12 to 14 mounds onto batter in pan. Cut through batters with metal spatula or knife in S-shaped curves in one continuous motion. Turn pan 1/4 turn; repeat cutting for swirled design.

4. Bake 28 to 33 minutes or until toothpick inserted in center comes out clean. Run knife around side of pan to loosen cake. Cool completely, about 1 hour.

5. Carefully spread fudge topping evenly over cake. In medium bowl, stir whipped topping, remaining 1/2 teaspoon extract, remaining 9 drops green food color and the yellow food color until blended. Spread whipped topping mixture evenly over fudge. Garnish with candy pieces. Store covered in refrigerator.

High Altitude (3500-6500 ft): No change.